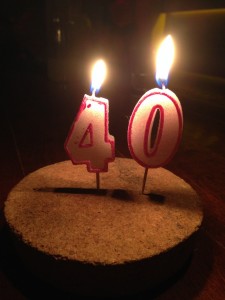 Last Thursday I turned 40. I feel good about it.
I took the day off from work to spend time with Greg, but still had to come in to the CBC anyway. I had been asked to take part in a panel discussion on the state of the literary industry. As someone with the publication of his first book looming, they wanted my perspective. I was happy to have been asked.
It was for the Quebec arts and culture show, Cinq à Six. Jeanette Kelly led the discussion. Joining us were Arash Mohtashami-Maali from the Canada Council for the Arts, and Katia Grubisic, a poet, editor and translator who I admire and run into all over town. Both were taking part in the CCA's National Forum on the Literary Arts, which happened in Montreal last week.
During the discussion I spoke a bit about my expectations and some of the plans.
I have to promote a book in an industry that continues to adapt to changes in the marketplace. I haven't spoken much of my plans here, but I will soon.
The rest of the day and the weekend that followed were lovely. I had a spa day with Greg, had drinks and dinner with friends, and hosted a great big party on the Saturday night. I'll continue to celebrate next month too when I visit friends in California.
I'm excited about 40. Everything is ripe and dripping with potential.