NOVELS
The Geography of Pluto
Cormorant Books (Spring 2014)

What started out 14 years ago as scribbles on cocktail napkins in gay bars turned into a very personal story about love and loss.
The Geography of Pluto examines the complex relationships that gay men have with their mothers. It tells the story of Will, a Montreal geography teacher who struggles to have an open and honest relationship with his mother while also coming to terms with the end of his first serious relationship.
You can read more about it here.
SHORT STORIES
I Like It Like That: True Stories of Gay Male Desire
Arsenal Pulp Press (Fall 2009)
Edited by Richard Labonté and Lawrence Schimel

My story in this anthology is called "The Weight of My Desire." It's about a crush I had on this boy I could never bring myself to talk to (except on this one evening). The book was short-listed for a Lambda Literary Award and a TLA Gaybie Award.
"Christopher DiRaddo offers what is perhaps the most touching entry… in which he eloquently recounts his youthful yearning for one of his first and most painful crushes (any girl will relate)." – Montreal Mirror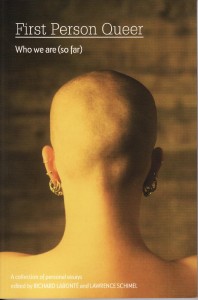 First Person Queer: Who We Are (So Far)
Arsenal Pulp Press (Fall 2007)
Edited by Richard Labonté and Lawrence Schimel

First Person Queer is a collection of personal essays about the queer experience. My contribution was called "Shirts Versus Skins". The story is about playing basketball with the other boys in high school, and my struggle to come to terms with my body hair. The book won a Lambda Literary Award for Best LGBT Anthology and a Gold Medal in the Independent Publisher Book Awards.
Quickies 3
Arsenal Pulp Press (Fall 2003)
Edited by James C. Johnstone

Two of my stories appear in this collection of short short fiction on gay male desire. "Closet" is a queer take on the classic teen party game, and "When I See Him Maybe I'll Know" is about the morning after the night before.
"His entries…are economically told, tight, funny and sexy – standing up well against some of the more seasoned and prominent writers in the book." – Montreal Mirror
ARTICLES
Austin or Bust
enRoute magazine (June 2018)
With drag now attracting mainstream audiences, more people than ever are hopping on planes (or cruise ships) to see their favourite queens. Meanwhile, drag artists themselves are sharpening their skills and networking at festivals around the world. For what was perhaps my most favourite assignment of all time, I got to travel to Austin, Texas with photographer Matt Nager to see who is travelling for their love of drag. Read it here.
Also, check out who we met on our journey.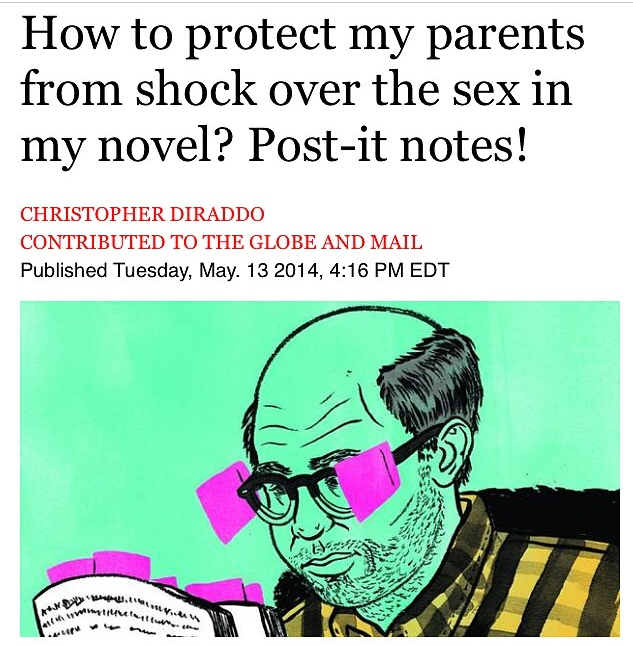 How to protect my parents from shock over the sex in my novel? Post-it notes!
The Globe and Mail (May 13, 2014)
Self-censorship was something I struggled with from time to time while writing Pluto. The book is about relationships so there was going to be some sex in there. I just needed to make sure that my desire to not have my parents change the way they saw me did not interfere with telling the truth of the story. Read the essay here.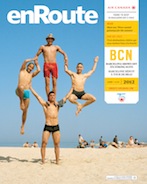 Everyone Loves a Parade
enRoute magazine (June 2012)
Provincetown is one of my favourite cities on the planet. Greg and I try to go ever year, and it never gets boring. One year I pitched a short travel piece to enRoute and they bit. This article tries to capture what it is I love most about this very cosmopolitan seaside town. Read it here.
Share