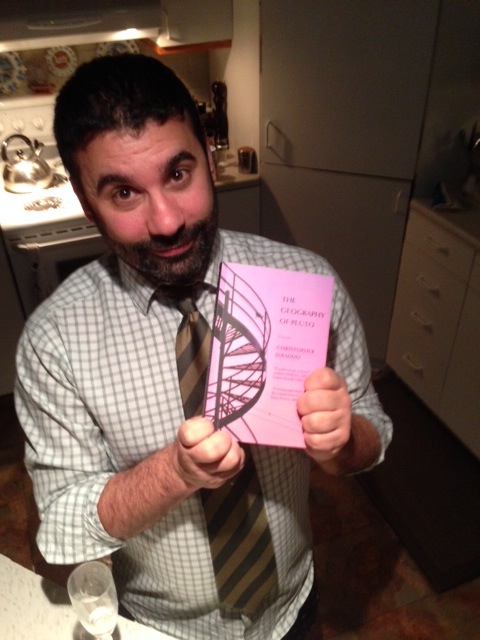 Last Saturday I spent the day walking from bookstore to bookstore. There aren't many left in Montreal, but I still thought I would poke my head in and see if my book had arrived. I knew they existed because Cormorant had posted a picture on Facebook and Instagram at the beginning of last week. Seeing that image bowled me over. Until then my book had only been two-dimensional (a Word file, a JPEG cover). But now it had a spine, volume, depth.
There were no copies in the stores yet, so I spoke with some of the staff – told them a bit about myself, the book. I also gave them all postcards. It was a great way to spend a rainy Saturday.
On Monday evening I got a text from Greg: "There is a box for you at home."
I was at the opening cocktail for the Blue Metropolis Literary Festival where I will be speaking this Saturday. As soon as I got the message I had to excuse myself and hightail it home.
I emerged from the metro and started to walk the several blocks to my apartment. It was dinnertime, so I decided to pick up some Chinese food on the way (I sure wasn't going to cook). As I sat there, waiting for my order, I thought about the package I had waited so many years to see. I'd be with it in just a few minutes, holding it in my hands in about the same time it takes to make chow mein. The people in the restaurant must have thought I was crazy because ever so often I spoke aloud to myself, muttering "Jesus Christ" about a half of dozen times.
Once I had our food, I hurried home. Greg had tidied up the apartment. Music was playing. Champagne was chilling. And the box was sitting on the kitchen island.
This was it.
I opened the box. Inside were ten copies of my book, one next to the other like they'll be at the Blue Met bookstore, on the table at my launch.
All parents love their children, but mine is beautiful. I love the cover and the colour (thanks Vincent). It's smooth with a matte finish and these wonderful French Flaps. I'm overjoyed with my author picture (thanks Paul!) – it's striking and stands bold against the cover's softness.
But more than all of that, it's the text that I can't get over: flipping through the book, see my words on some 277 pages. The book is still too powerful for me to hold just held. I have to put it down after only a few minutes.
So it begins.