Name: Christopher
Posts by Chris:
August 28th, 2014

Do you remember where you were when you first heard that Pluto wasn't a planet anymore?

I don't. But I do remember how I felt. It was a surprise, a shock. Like being told there is no Santa Claus. No Easter Bunny. No God. "There are only eight planets now in our solar system," the scientists had said. And this fact would now be taught in schools. Suddenly, a fundamental part of my solar system was no longer invited to the table.

I might be being a tad dramatic, but the loss of Pluto did represent something significant for me. It was the dismantling of a long-held belief system; a symbol of the end of innocence. It proved that nothing – not even a constant out there in the universe – is forever. And it caused me to pose more questions where I thought we had all the answers.

What is Pluto if not a planet?

It turns out that Pluto is a proto-planet, frozen at a stage of development that all of the planets in our solar system went though. It is just one, perhaps the largest, of many objects in the Kuiper belt – an enormous region of space made up of small remnants from the early days of our solar system's formation.

I have soft spot for Pluto and you will see why if you read my book. Pluto is the only other planet in our system with a personality. It's the consummate outsider, living at the far end of our solar system looking in. It's the misunderstood teenager listening to music in the basement. The underdog. The one who writes poetry. The one no one understands. The one everyone is trying to define.

Pluto is also the only planet in our solar system that has yet to be studied or photographed up close. All that is about to change. A satellite called New Horizons is currently on its way to visit the dark planet. It was launched in early 2006, before Pluto was declassified. It has set the record for the fastest man-made object ever made. And slowly, over the past nine years, it's been inching its way towards its destination.

New Horizons will arrive soon, on July 14, 2015 (watch New Horizon's Pluto flyby).

When it arrives we are going to learn so much more about our solar system and how it was made. I find that poetic. That we have a lot to learn from the outsider. That we are just like him at our core.

I know that this will not be the end of the story. Pluto lost its status so fast, it could regain it again just as quickly (Alan Stern, the chief scientist of the New Horizons mission recently challenged famous astrophysicist Neil deGrasse Tyson to a debate on Pluto's planethood). And I know I am not the only one whose imagination has been captured by this, who is rooting for Pluto to take its rightful place in the sky.
Comments Off on In defence of Pluto
August 26th, 2014
Yesterday, the New Horizons space probe crossed Neptune's orbit. About a month ago it snapped this distant shot of the gas giant (and its moon, Triton) from a distance of 2.45 billion miles. This is the last major crossing the vessel will have until it gets to Pluto on July 14, 2015.
So I assume things will be quiet for New Horizons for a while.
Things are quieting down for me too. The Geography of Pluto has been out for four months and things are beginning to slow down. I couldn't be happier with the press I've received, with the emails I've been getting from people who've read the book. But I have to find new ways to keep the novel alive, to keep the solar winds in its sails.
But one thing I am going to take a break from – for the moment – is public readings. I've done seven of them in the last four months and am exhausted.
I have learned many things about readings so far. I've learned that it's important not to rush through your passage, no matter how quickly you want it to be over. I've learned to breathe between the words. I've learned that not all excerpts, not even your favourites, are appropriate to real aloud. I've learned that dialogue is particularly hard to read, as the audience doesn't always know who is speaking. I've learned that I get uncomfortable reading sex scenes in public. I've learned that short and sweet is really the best, and that funny passages work better than anything else.
I have also learned that you can't predict how things will turn out, and that not every promotional idea works. When I first launched the book I came up with a "support your local bookseller" initiative. In order to encourage people to shop locally, I offered an added incentive to those who bought Pluto from a brick-and-mortar store: a personalized postcard or video message from me. So far only one person took me up on it. Not sure why. Perhaps word never got out. Or perhaps the offer was not that appealing. Still, I'm glad I tried something.
Over the next few months I'm going to test out some new promotional ideas to propel Pluto a little further on its voyage. So it's not just floating in empty space.
Image Credit:
NASA/Johns Hopkins University Applied Physics Laboratory
Comments Off on Reading lessons
June 28th, 2014
This is one of the first interviews I did for the book. I've known Dimitri Nasrallah for many years now. We first met in 2005 when I was the QWF's publicist and he won a literary award for his book Blackbodying. He's always been such a great supporter of Quebec literature. Currently he is the fiction editor at Véhicule Press and the host of a new books-related TV show called Between The Pages. I was thrilled to be asked to join him and other Montrealers Heather O'Neill and Gregory McCormick for a discussion of the literary mythology of our city and how we are adding our voices to that rich cultural legacy.
Comments Off on Reinventing Montreal
June 4th, 2014
I don't know how this happened, but last Saturday my mug graced the front page of the Montreal Gazette's culture section. It was nuts.
I knew the interview was coming. I had met with Gazette reporter Ian McGillis at my apartment on Monday evening. On Wednesday night, photographer Allen McInnis came over to take a picture and shoot the video. But I had no idea I'd be waking up to two #$@&%*! pages.
Ian did a great job with the article. At this point it's important for me to get the book into the hands of people who don't know me. This Gazette article will help do that. All over the city – from suburban homes in the West Island to packed coffee shops in the Mile End – people were reading the profile and discovering the book. I was thrilled.
I hope this means that more Montreal bookstores will carry copies of the book. Last Tuesday I stopped by Indigo downtown to see if my book was on the shelf. It wasn't. So I looked it up on their self-serve computers. It said there were two copies in the store.
I suppose I looked puzzled because a very nice older woman who worked there stopped me and asked if I needed any help. I pointed to the screen. "I wrote that book," I told her.
"Really?" she beamed. "Would you like to sign some copies?"
"Yes, I would," I said. "Except, I can't seem to find it."
The woman went to the terminal and clicked around. "Oh," she said. "It just came in. It's probably in the back. Do you want me to go check?" She took off for a while and came back several minutes later apologetic. Apparently the books were on a pallet somewhere waiting to be unpacked. I thanked her and told her I would come by later.
But only two copies?
Montreal is my hometown. It's prevalent in my book. I don't need a display or anything, but I'd like to think that stores would carry more than just two books by one of their city's writers. Hopefully this Gazette article will change that.
Comments Off on Front page
May 18th, 2014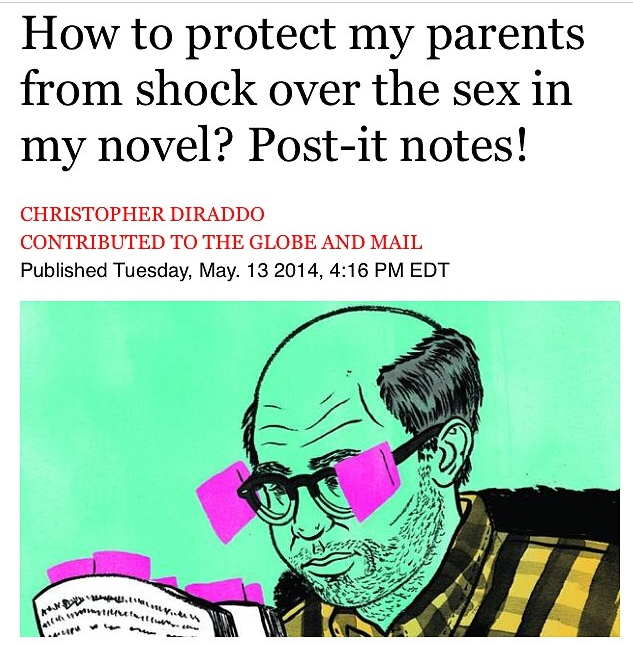 Last Wednesday, The Globe and Mail published an essay I wrote for their Facts & Arguments page. It posed the question "How do you write about sex when you know your parents are going to read it?"
Self-censorship was something I struggled with from time to time while writing Pluto. The book is about relationships so there was going to be some sex in there. I just needed to make sure that my desire to not have my parents change the way they saw me did not interfere with telling the truth of the story.
This is how I dealt with it. Read the essay here.
Comments Off on Essay in The Globe and Mail